It is very rare for me to ever but a new PC game straight from release. I've learnt over many years, that there are bargains to pick up if you are prepare to look. I never pay more than £20.00 for a new game, and then I might wait several months before buying it, by which time the price can sometimes drop by 50%.
I find the bargain bin or the pre-own section of Game Station or a computer game retailer the most interesting and exciting place in a computer game store. I'm usually surprise and sometime shocked at what games people decide to get rid of. Either because they got bored, or they were too young for the game or there's some bug in it and they don't know about updates or patches or don't have the effort or skill to fix it.
Something I can get a pre-own game, which has been out for 6 months cheaper than the new/unused version, which is sitting on the same shelve, a couple of feet away.
So I was ask last night this question over Steam: "I have £60, what games should I buy? Should I get COD4?"
Well COD4 can cost nearly £15, (play.com) even though it's been out for nearly 2 years, and for the same price, I could about 10 good PC games, which will last me longer. Listed below is a great selection of game will you can pick up from as little as 10p. A lot of them are in boxsets and getting a pre-own version could mean about 80p pre game, so there are bargains to be had. I've try to list two places on the internet where you can buy each game. Some are out of stock, so make sure to check back regular if you are after a particular game.
Most of these games I owned so I know quite well what to pay for, if you know any great PC game which is cheap as chips, then please leave a post with a link to the online store, thank you.
Command & Conquer: Saga
£9.95
www.thegamecollection.net
(13 games - 77p per game)
* Command & Conquer – August 1995
Command & Conquer – The Covert Operations – April 1996
* Command & Conquer: Red Alert – October 1996
Command & Conquer: Red Alert – Counterstrike – March 1997
Command & Conquer: Red Alert – The Aftermath – September 1997
* Command & Conquer: Tiberian Sun – August 1999
Command & Conquer: Tiberian Sun – Firestorm – February 2000
* Command & Conquer: Red Alert 2 – October 2000
Command & Conquer: Red Alert 2 – Yuri's Revenge – October 2001
* Command & Conquer: Renegade – February 2002
* Command & Conquer: Generals – February 2003
Command & Conquer: Generals – Zero Hour – September 2003
Command & Conquer 3: Tiberium Wars - March 2007
The first 13 games of the C&C serires, ok you might not play them all, (*cough* Renegade *cough*), but some great titles such as Red Alert 2, Genrals/Zero Hour and C&C 3 too. Make sure to read my
C&C article
in the C&C sub-section about the fantastic unofficial patch for this boxset and how to get the early games to work in wide-screen if you have a wide-screen monitor. A must read for all true Command & Conquer fans.
Serious Sam: Gold Edition
£4.00
Computer Exchange
(3 games - £1.33 per game)
Serious Sam: The First Encounter,
Serious Sam: The Second Encounter
Serious Sam: Dark Island
It's the rumble of the century and you're in the ring with no one to tag!
- PC Gamer 92%
The series' gameplay involves huge number of enemies, large, open areas, and various hidden rooms and treasures. The levels in the games are massive, depicting vast plains, deep valleys and the exterior/interior of the monuments of different human civilizations. Monster fighting makes up most of the games, with Sam's only help being NETRICSA (NEuro-TRonically Implanted Combat Situation Analyser), an advanced computer AI surgically implanted in his brain. NETRICSA serves as an in-game strategy guide, cataloguing encountered enemies and weapons, and at the same time providing bits about the background story and hints on how to cross the levels. Though often the hints are quite obvious and presented in a humorous way.
The game was one of the first to have a online co-op mode, where you and 15 other people could go through the main game a team, fighting you way through thousands upon thousands of monsters and aliens on the hardest setting. Then there's the big b@stard to fight at the end. This is the game for true spammers! This is one of my favourite games, because it's just fun to play and always brings a smile to my face as I'm sure it will to yours.
Warcraft 3
£4.00
Computer Exchange
Warcraft 3: Frozen Throne
£4.00
Computer Exchange
Warcraft III contains four playable races: Humans and Orcs, which had previously appeared in Warcraft: Orcs & Humans and Warcraft II: Tides of Darkness, and the Night Elves and Undead, which are new to the Warcraft mythos. Warcraft III's single-player campaign is laid out similarly to that of StarCraft, being told through all four of the game's races in a progressive manner. Multiplayer mode allows for play against other people, via the internet, instead of playing against computer-controlled characters as is done in the single-player custom game mode.
You might be lucky to get both of these in a boxset together, (Battle chest Edition), but I can't find one which is cheaper than buying them separately. Warcraft 3 is a good RTS, but the reason to get it is to play the huge amount mods made for it. 40K Tower Defence and Battleships are some of the best and there's also the infamous DotA mod, which in my experience has cause huge amount of grief to people, (stay away from it, cause too many arguments, friendships have been broken beyond repair by this mod). You may like it, but don't some crying to me if your best friend pwn your @ss at DotA. I say play the Battleships mod instead, causes less arguments.
Warhammer 40,000: Dawn of War - Complete Collection
£12.00
Computer Exchange
(4 games - £3.00 per game)
Warhammer 40,000: Dawn of War
Warhammer 40,000: Dawn of War - Winter Assault
Warhammer 40,000: Dawn of War - Dark Crusade
Warhammer 40,000: Dawn of War - Soulstorm
Warhammer 40,000: Dawn of War is a military science fiction real-time strategy video game game developed by Relic Entertainment based on Games Workshop's popular tabletop wargame, Warhammer 40,000. Since its release, three expansion packs have been released: Winter Assault in 2005, Dark Crusade in 2006 and Soulstorm in 2008. The sequel, Dawn of War II was released in February 2009.
Play the first game just for the story and the 4 armies (Spave Marines, Elder, Orks & Chaos), in multi-palyer mode.
Play the second game for the extra army, (Imperial Guards) in the multi-player mode.
Play the third games for the new single player campaign mode and the two more extra armies, (Necron & Tau), in multi-player mode.
Then get the fourth game for two more extra armies, (Sisters of Battle & Dark Elder) and then have over 125 multi-player maps and 9 diffrenet Armies/races to choose from. A great series of games, but Winter Assault and Soulstorm are the weaker single player games of the pack, but get them all anyway, so you have all 9 armies and all the new weapons, units & features.
Grand Theft Auto: Vice City
£4.00
Computer Exchange
Vice City draws much of its inspiration from 1980s American culture. Set in 1986 in Vice City, a fictional city modeled after Miami, the story revolves around Mafia member Tommy Vercetti, who was recently released from prison. After being involved in a drug deal gone wrong, Tommy seeks out those responsible while building a criminal empire and seizing power from other criminal organizations in the city. The game uses a tweaked version of the game engine used in Grand Theft Auto III and similarly presents a huge cityscape, fully populated with buildings, vehicles, and people. Like other games in the series, Vice City has elements from driving games and third-person shooters, and features "open-world" gameplay that gives the player more control over their playing experience.
Do you remember the excitement when this game came out 7 years ago? (no you want, because most of you would of been 9 or 10 years old! lol) You will lose hours, days, week and months in this games, cos there is so much to do and the scale of the city and amount you can do at the time was unprecedented for a computer game. A fantastic story with great game play and a killer 80's soundtrack that would bring a tear to your parents' eyes. The game doesn't like dual core CPU's, cos everything runs ten times too fast, which is funny for about 30 seconds until it becomes annoying, but there's is a simple fix for that and if you head towards the
Wide Screen Gaming Forum
, there is help to get the game into wide screen.
Heroes of Might and Magic 3 + 4 Complete
£3.50/£3.73
Computer Exchange
(6 games - 58p per game)
The Hut
(6 games - 62p per game)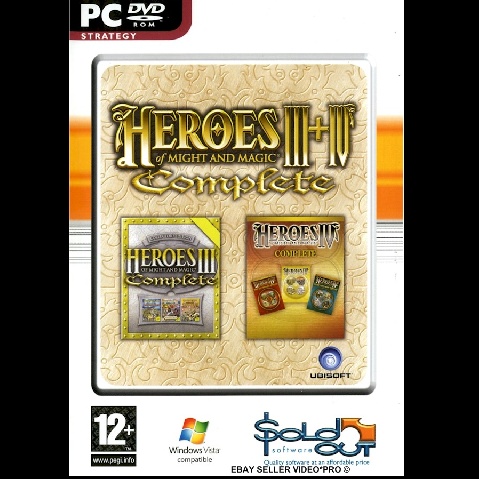 Heroes of Might & Magic III: Restoration of Erathia,
Armageddon's Blade
Shadow of Death
Heroes of Might & Magic IV
The Gathering Storm
Winds of War.
The Heroes series is within the genre of turn-based strategy. The titular heroes are player characters who can recruit armies, move around the map, capture resources, and engage in combat. The heroes also incorporate some role-playing game elements; they possess a set of statistics that confer bonuses to an army, artifacts that enhance their powers, and knowledge of magical spells that can be used to attack enemies or produce strategic benefits. Also, heroes gain experience levels from battle, such that veteran heroes are significantly more powerful than inexperienced ones. Experienced heroes may persist through a campaign, but do not carry over between single scenarios.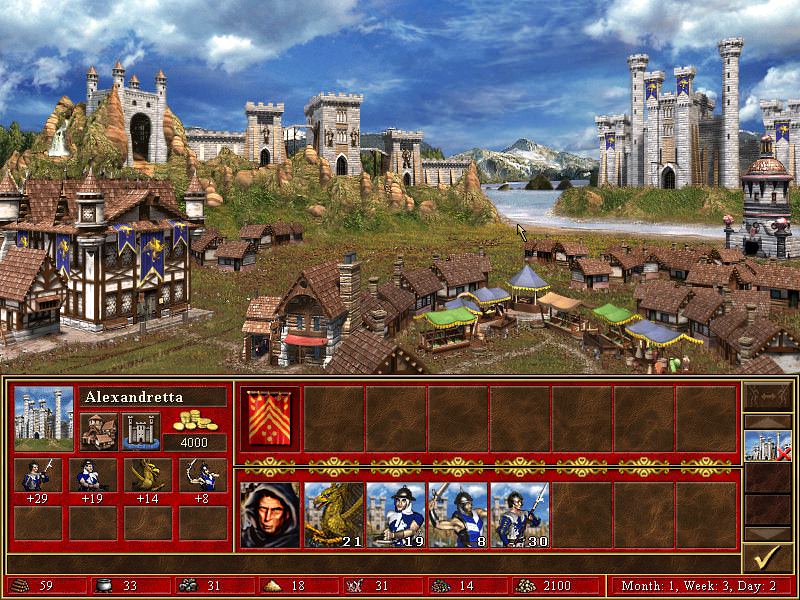 One of the first games I ever brought for my PC back in 2001. Another game which you can spend hours on with the huge amount of campaigns and skirmish maps, which are available. I love this game so much, I've even done a modded map for it, which still isn't completed after 4 years, (I can be lazy at time), based on the world of Middle Earth from The Lord of Rings. Which I must say it rather impressive and think it's probably the best Lord of The Rings map done using the game.
(I'll will post some more images of the mod at a later date in a topic on it's own, cos I want testers to try it out and I want you tell how I created it and the amount of work that has gone into it. But here is a sneak peek of it and you're the first people to have ever seen this map apart from myself)
Overview of Middle Earth
Helm's Deep and Isengard to the left. Fangorn forest near the centre and Lorien at the top centre.
Rivendell and Lady Arwen
Last edited by Kenny on Tue Jun 01, 2010 8:43 am; edited 1 time in total
Back on topic
Grim Fandango
£2.50
Computer Exchange
Grim Fandango is a graphic adventure computer game released by LucasArts in 1998 and primarily written by Tim Schafer. It is the first adventure game by LucasArts to use three-dimensional graphics overlaid on pre-rendered 2D computer backgrounds. As with other LucasArts adventure games, the player must converse with other characters and examine, collect, and use objects correctly to solve puzzles in the game in order to progress.

Grim Fandango's world combines elements of Aztec beliefs of afterlife with style aspects of film noir, including The Maltese Falcon, On the Waterfront and Casablanca, to create the Land of the Dead, which recently departed souls, represented in the game as calaca-like figures, must travel through before they reach their final destination, the Ninth Underworld. The story follows travel agent Manuel "Manny" Calavera as he attempts to save Mercedes "Meche" Colomar, a newly arrived but virtuous soul, during her long journey.
You guys know how much I love this game, and it's not too difficult to lay your hands on a copy. If you can't get a copy from the above link, try eBay instead, as it usually have at least half a dozen copies listed at any one time. The game is just well made, from the story and art design to the very witty script, (which uses with light and dark humour), and the wonderful soundtrack. As being a Lucas Arts game the interface is crap, a flaw in every Lucas Arts game I've ever play, but if you can get pass that and are prepared to take a risk with a game which looks something you wouldn't usually play, then you won't be disappointed.
Admin




Posts

: 79


Join date

: 2009-05-26


Age

: 26


Location

: new york



You seen the price at $44.90! You could a brand new release with that sort of money!

I will finish the article, I'm just trying to write so much for the forum at the minute and its all got way ahead of myself.
---
Permissions in this forum:
You
cannot
reply to topics in this forum