Left 4 Dead is a well balanced co-op game, (until you get a hunter and then a licker on you in the same minute and you then scream "What are the F#CKING chances?). It may be a surprise to learn that they are people out there who want to make things more difficult for themselves.

The Doku mod maybe the answer as it has more realistic weapons, tougher gameplay, no musical queues and zombies that only die when shot in the head and a load of other things. But the main feature of the mod is now on your own. It's now becomes the rumble of the century and you're in the ring with no one to tag. As you can imagine, you're in for one wild night.
You can get the mod from
here
and you will need to be very careful about installing it. You have to backup your entire "Left 4 Dead" folder before installing the mod and then just copy back the original files, overwriting the mod files, if you want to play the original version of the game.
How to install the mod
(I won't be held responsible if you mess up your game files from doing this, so take you time and see if you can find some help with it if your unsure about anything.)
Make sure L4D is updated and backup the files. Once you have downloaded the mod, go to C:\Program Files\Steam\steamapps\common\left 4 dead\left4dead and unzip the files of the VPK_EXTRACTOR. Run GibbedValve.ExtractPackage.exe and press "Extract" and select pak01-dir.vpk and open.
Choose the left4dead folder and okay it. Next, unzip the "scripts", "sound\weapons", "maps" and "resource" folders into your main L4D directory, making sure you overwrite all files.
And that should be it. Loved to know if you guys have try it and if you have please tells what it was like, also tell us about any other mods you have come across.
Does the original Left 4 Dead game have any life left in it? (No pun intended). With the sequel being out nearly for a couple of months now and the number of people playing the original game is about the same level of sophisticated conversation late at night on our Ventrilo server; low, if you couldn't work it out (not mentioning names, but they won't like that remark!

). Plus there's no new content on the horizon yet or has been for some time. Maybe you have played 'No Mercy' to death, (again, no pun intended), or know which corner of the 'Blood Harvest' farmhouse insures victory and/or move onto Leaf 4 Dead 2, but when you do get a bit fed up with the new game or if you haven't yet brought it, have a look at these mods which were feature in this month's PC Gamer, which are very easy to install, if you follow the instruction below.
Installation:
Step1
Download the each mod, (most of the links provided are from l4dmaps.com)
Step 2
Open up the Steam folder on your C Drive and then search for the left4 deadaddons folder e.g. C:Program FilesSteamsteamappscommonleft 4 deadleft4deadaddons
Step 3
Drag the downloaded .vpk game files into this folder
Step 4
To run any mods, select the game mode you'd like to play from the L4D main menu and find the 'Add on campaign' selection from the 'Campaign' option.
Hunter Training
(81.55Mb)
A bit like Portal, but for Zombies, which teaches advanced leaping techniques and tactics via more than 20 courses/test cambers. An especially useful mod if you want to improve on the 'versus' mode of the game.
Coal'd Blood
(63.46Mb)
A zombie outbreak in a coal mine, which reminds of Doom in terms of used of space. You feel enclosed in a space, but that's simultaneously contained and open. Great crescendos and finals used underground heavy machinery e.g. as the crane lifting a steel beam so you can get to the other side of a ravine. The campaign starts in an abandoned bed and breakfast and leads the survivors down into the old abandoned coal mine. The survivors eventually find their way out the other side of the cave to be rescued by a passing news chopper.
Ilogic City
(59.61Mb)
Maps based on short gameplay and the player's ability, adapted for all kinds of levels promises to be fun, for example there are cardboard cut-outs of T-Rexes. Ilogic City dares to be ridiculous and feels a bit like Garry's Mod for L4D.
Helm's Deep
(56.38Mb)
This is for you 'Lord Of The Rings' fans, where zombies would like to feast on King Theoden's brains. Grab an M-16 from the armoury, hurl some gasoline cans over the wall, man a Gatling gun and defend man's last stand in Middle-Earth. This is vast and very detailed, as you fight outside and inside the fortress and you can tell a lot of time and effort has been taken in making it.
Watch at 1:05, fantastic video pan shot with tracer fire!
Dead before Dawn
(1.1Gb)
This is a remake of the settings to the film 'Dawn of the Dead'. An all-seeing security guard guides you through the mall's overrun facilities in this ambitious and creatively scripted mod.
Shadow Moses
(9.02Mb)
One for you 'Metal Gear Solid' fans, only the first area is complete and there are no custom characters at the moment, but another mod where you can appreciated the commitment to recreating the Alaskan base. The comment that he is going to finish this of for L4D 2 though.

Dismember the Alamo
A replica of a
real-life Texas cinema.
Zombie films aficionados will love how the theatre is dotted with real-life film posters and stills. Again the detail is something to look at, the ugly carpet you tend to get in Cinemas and the ambience of rows of empty seats in the theatre itself.
0:20-0:58
"Paid 10 bucks to watch this bullsh!t one minute show!"
Death Aboard
(360.42Mb)
In 'Death Aboard' you start out in a prison and work your way out to the nearest docks area. From here, you board a stranded ship and finally to an island where there will be a lighthouse as a finale.
Vienna Calling
(70.12Mb)
This is a marathon-length campaign with a few surprises; a traincar that pulls survivors down the track and a great section involving a river, a tractor and pulleys.
Bedroom 3: Bite Size
(18.49Mb)
This is really 'Honey, I Shrunk The Kids' (or should that be survivors!) map. Its like 'Toy Story' taking place with toys coming alive, but with toy zombies instead. This map takes place in one oversize house set at night. The survival can shift from room to room and players can use the dynamic props to alter their defence on the fly. Make sure to check out the giant Nintendo Wii and the selection of movie posters in the bedroom.
Last edited by Kenny on Wed Jun 09, 2010 7:07 pm; edited 1 time in total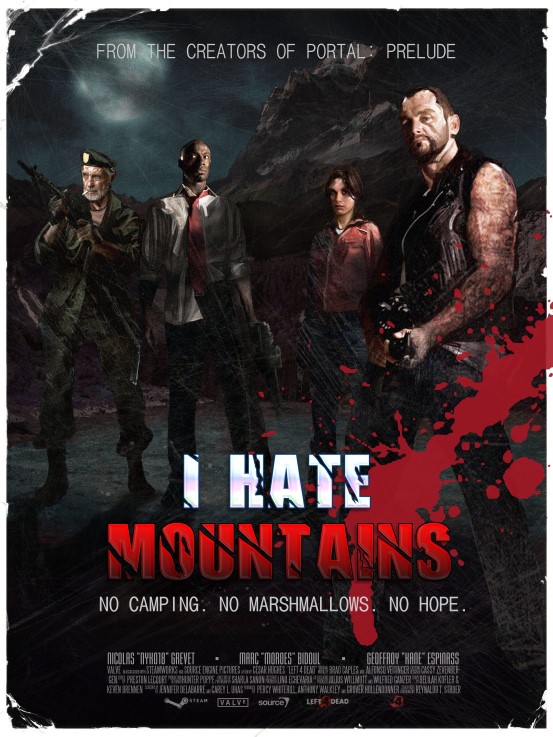 This Left 4 Dead community made campaign is from the same people who made a mod for Portal called 'Portal: Prelude', which became the official prequel to the game. So going on past work, this should be pretty good and has taken over a year to make.
'I Hate Mountains' takes Francis and the gang deep into the wilderness. The survivors venture through a branching forest, explore a spooky mansion, tunnels, venture into a lumber-yard and visit a lake.
'The I Hate Mountains' campaign is divided into five different maps, just like Valve did with their own campaigns in Left 4 Dead 1.
The difference is that this campaign is entirely nature-oriented, there's only a few building and most of the action takes place in outdoor environments, which is a challenge to build in itself. They also focused its development on offering a better re-playability by providing several long alternate paths in the levels that can totally change the way you play it.
A Left 4 Dead 2 version is in the works, though the team notes it "is simply a quick'n dirty port for the people who don't own Left 4 Dead 1" so it will suffer "no conversations between survivors... missing visual effects, missing objects and more importantly, the whole gameplay was initially thought for Left 4 Dead 1."
If you want more information and to download the campaign, then go to
http://www.ihatemountains.com/
Similar topics
---
Permissions in this forum:
You
cannot
reply to topics in this forum